We recently kept receiving inquiries on the temperature inside our greenhouse solar dryer and how it differs from the conventional sun drying method.
Today, we will be discussing the potential of a greenhouse solar dryer. You've heard it! We are listening to your feedback.
New to greenhouse solar dryer? Read more about it here.
Here, we will give you an example of drying tomatoes using sun drying and solar drying.
Dried tomatoes make a good quick snack and excellent on Italian food. When drying a tomato, it starts from being moist and ends up with being dehydrated.
When you dry tomatoes under the sun, the heated air removes moisture from the tomatoes. The process will be faster when the temperature is higher.
There are two ways to dry tomatoes using the sun: greenhouse solar dryer and open sun drying. However, we believe a greenhouse solar dryer does the job better. Here are the three reasons why we believe so.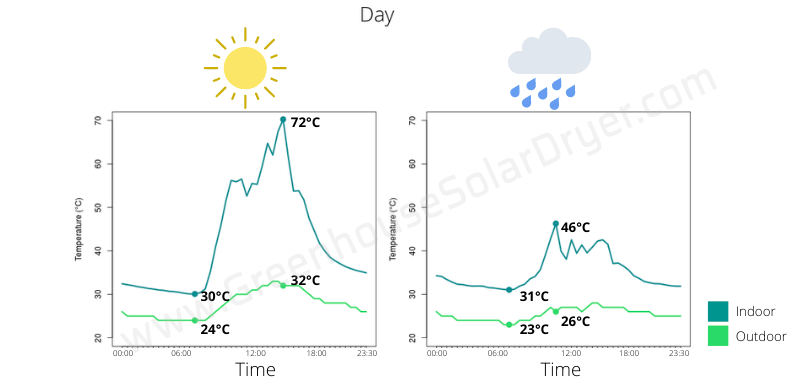 Figure 1. Temperature graph on a sunny and rainy day.
1. Solar dryer's highest heat intensity is double the open sun's heat
On a sunny day, the temperature inside the solar dryer (72°C) is double the outdoor temperature (32°C). This shows the greenhouse solar dryer has the capacity to dry the tomatoes faster compared with the conventional sun drying method.
2. Solar dryer retains heat on a rainy day
A rainy day is not suitable to dry tomatoes. But, we can still dry tomatoes using a greenhouse solar dryer. The greenhouse solar dryer can retain heat up to a maximum of 46°C compared to a mere outside temperature of 26°C.
3. Drying is continuous even at night with a solar dryer
Just take a look at the heatmap in Figure 2. The indoor temperature (solar dryer) is consistently higher than the outdoor temperature (sun drying), even at night. Now, with a greenhouse solar dryer, farmers can be rest assured that they can dry their produce faster, cleaner, and 24-hour around the clock.
We are constantly on the lookout for further improvements on the dryer. If you would like to know more, drop us a message, and we will get back to you as soon as possible!